About Kyoto Craftsmanship
Compary history
Quality products crafted with robust techniques
that have been passed down from generation to generation.
Robust techniques and a history of superb performance
Katota Textile Company, the moving force behind Kyoto Craftsmanship, was founded in 1882 in Nishijin, Kyoto. The company has an over 130-year-long history of handling gold brocade, with applications ranging from Buddhist and Shinto ceremonial items, such as altar cloths and hanging screens, to clothing items worn by Shinto priests and Buddhist monks for ceremonial occasions.
Our highly skilled artisans work tirelessly to bring you the finest hand-loomed and machine-loomed gold brocades, vestment fabrics and white pure silks suitable for various uses.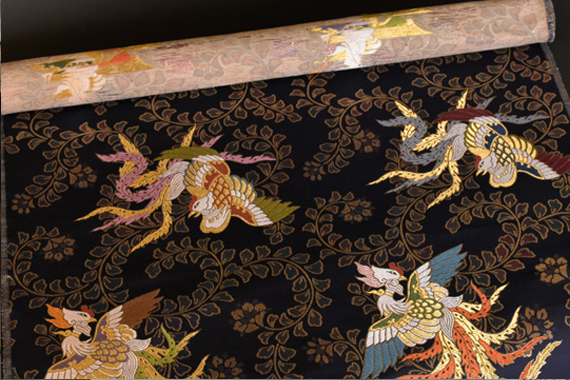 A new proposal from Nishijin, Kyoto
As a new proposal from Kyoto Craftsmanship, we wanted to give you the chance to see and feel the excellency of the goods we are providing to temples and shrines. That is why our products now include, not only Buddhist stools and ceremonial items, but also interior goods such as hanging scrolls, tapestries, sofa and seating cushions, that are suitable for private homes, hotels and traditional ryokans alike, and open up a new way of decorating spaces.