About Kyoto Craftsmanship
Our textile products
Gold brocade is commonly understood as a majestic, shining
and colorful fabric woven using gold thread and gold leaf.
Kyoto Craftsmanship specializes in the hand-crafting of
various kinds of items from this prized material,
and provides an assortment of fabrics,
including hand-loomed and machine-loomed gold brocade,
vestment fabrics and white pure silk, for a wide variety of uses.
What is special about Nishijin-style gold brocade?
A distinguishing feature of Nishijin brocade is the use of unique patterns and colors that have evolved in the course of the craft's passing from father to son.
Some of the patterns depict ancient treasures that were transmitted to Japan via the Silk Road, and stored in the treasure house of the great Todai-ji temple. Others are pictures of bags and wrappers that belonged to feudal lords and tea masters. In addition, each religion has its unique patterns appropriate for each sect and rank, which means that the patterns on a stretch of brocade are far from easy to imitate. The technique for weaving the patterns with dyed thread is also unique, and several work phases are required before a ready fabric can emerge from the loom.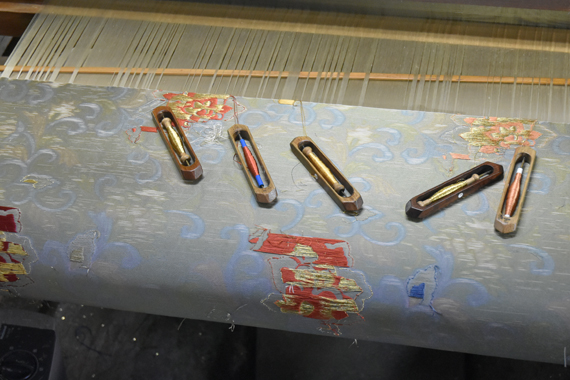 Each product is crafted with care
The origins of the Buddhist tradition of gold brocade use can be traced to patchwork clothes called funzoe, that the Buddhist monks sew together from throwaway bits and pieces to show their detachment with the material world. Later, the indigenous religions that developed independently in Japan adopted gold brocade for their ceremonial wear, altar cloths and other accessories. Presently, some of the gold brocade items used by Japanese Buddhist sects are unique in the entire wider Buddhist world.
Our company is dedicated to handling this precious material of Buddhist robes, religious apparel and ornaments with the care that it deserves, and crafting it into dignified and cozy products with patterns and colors designed to please the eyes and touch the hearts of our customers.